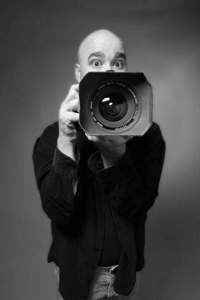 Photographer's Final News, Notes, Facts & Fictions...
It has been a fun, exciting and profitable twelve years... but it's time to move along to something new.
TrueTeenBabes was originally dreamed-up and planned in the fall of 2000 by myself and a local high school student named Alia Shari that was working part-time in my photo studio. Never did we think it would be anything other than a fun side project squeezed in among the other tasks we had going on at the time. What a huge mistake in thinking and planning that was.
The incentive for TrueTeenBabes came down to two very simple things... fun working with her cute friends, and some extra income on the side.
It took us almost a year to hire models, shoot photos, and try to figure out how to build a website. We had absolutely zero experience with the website part and much of what we did to create the first version was done with the book "Websites for Dummies" being held open by a ruler jammed in the pages next to the keyboard. Funny to think about now... maybe a foolish way to do it at the time.
Just a few weeks before opening her and I started a tradition that continued to this day - dressing up silly for, and taking models to, crazy Jimmy Buffett concerts. Late that evening her and I, still dressed in the party garb, sat in a Denny's all night diner and scratched out in the margins of a coffee stained newspaper the basic math of running a subscription website. Our goal that early morning of June 1st, 2001 was to open July 1st and try to make it to 500 subscribers by the end of the year.
We opened on July 4th and made it past the 500 subscriber mark on July 9th. We had no idea what to do. The response, the emails, the media attention and more sort of overwhelmed us. In some ways I'm still playing catch-up to this day 12 years later.
Those 12 years have flown by and in many ways they have worn me out. This site went from being a fun side project to a 7 day a week, 14-16 hour a day job so fast I felt I couldn't take time out to eat or breathe.
I thank all the fans for that because being busy meant that the site was a huge success. I've listed some of the fun statistics below. One truth is that at age 54 I'm tired and ready for something else. Trop-Rock singer-songwriter Scott Kirby may have said it best.
"My Doctors, My Lawyers, Say You're No Tom Sawyer, Ya Can't Keep Up Keepin This Pace"
It's now time to breathe and enjoy life a bit more. It's time to spend some of the money fans have been so generous to send me all these years before I'm too old to enjoy it.
The plan is simple. Over the next few months I'll be wrapping up a bunch of business related things around town. By spring 2014 I expect to be living part-time in the United States Virgin Islands and simply relaxing with friends, maybe learning to sail a boat and working on a little book of short stories from around TrueTeenBabes.
Back home in Colorado the photo and video archives at TrueTeenBabes.net and TrueTeenBabes.tv will remain open.
There really isn't much more I can say... It's been one hell of a ride. More work than I ever expected, more models than I ever expected, more travel than I ever expected, more silly hassles than I ever expected and way the hell more money than I ever expected.